Craig Pindell
Fine Art Photography
Experiments and Testing
One of the most enjoyable parts of film photography is the testing and experimentation required to perfect the use of the materials and the fine tuning of the craft of photography! Please keep in mind, some of these efforts will not looks so great. Some will look very ordinary. Some will be OK. I imagine if they are really horrible, I probably wouldn't put the results up here.
I hope that by sharing some of the results, I can help other photographers improve thier testing, inspire additional experimentation and help new photographers learn from my mistakes.
Some may wonder why after 40 years of photography, I would still need to be testing the materials I use. The truth is that the companies that manufacture the materials are still working to improve the film, chemicals, and paper that we use for this process. Some companies are working to make their products more environmentally friendly. Some are showcasing new products. Unfortunately, some companies are discontinuing products and I have to find replacement products, which then leads to having to replace other products or chemicals. Change is good, and I am looking forward to sharing my findings going forward.
I hope you enjoy!
Ilford Pan F + Film with Ilford DD-X Developer
Lake Marie and French Creek

Snowy Range Wyoming

This photo was created with a Graphlex XLSW 6x9 camera and 47mm lens. Pan F+ film developed in Ilford DD-X diluted 1:6

This film and developer combination has greatly improved my opinion of Pan F, and it was my favorite film prior to experimenting with DD-X!
Leaves and Stream

Happy Jack, Wyoming

Mamiya RB67, 50mm lens, no filter, Pan F+ and DD-X diluted 1:6. N-2 Development. To me it seems the shadows lost a bit of detail, so I will try more to fine tune the N-2 data. I suspect I will need to reduce the film speed from 50 ISO to 32 ISO for minus development.
Aspen Trunk and Curved Tree

Happy Jack, Wyoming

Mamiya RB67, 127mm lens, no filter, Pan F+ Developed in DD-X diluted 1:6 and given N+2 development. I expected much more grain that this.
Ilford FP4+ Film with Ilford DD-X Developer
Pine Tree Rubble Pile

Happy Jack Road Wyoming

Ilford 8x10 FP4+ Film developed in DD-X diluted 1:6. Kodak Master Camera, 240mm lens. No filter. Shortly after sunrise. 3 second exposure. Even with the long exposure, the grain is very fine, and detail is excellent.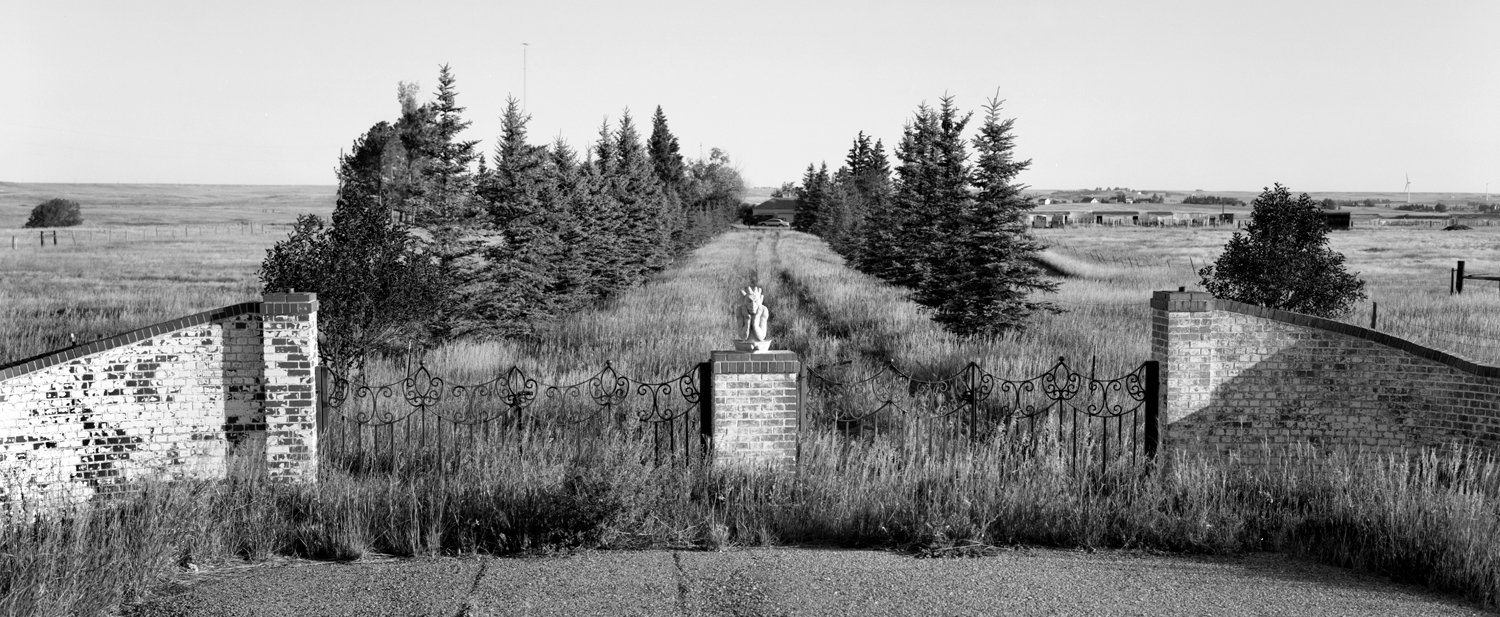 Gargoyle and Gate
Cheyenne Wyoming
Ilford 8x10 FP4+ Film developed in DD-X diluted 1:6. Kodak Master Camera, 240mm lens. No filter. Normal development. The DD-X kept the grain small and even in the sky area and held the detail very well.
Kodak Ektar 100 8x10 C41 Developed in my darkroom
I have long wanted to make color negative film photographs using my 8x10. This is an expensive and labor intensive proposition, but I finally wore down and bought a box of Ektar film, along with a home C41 processing kit. So far this has been a productive and fun experiment. My goal is to not have super saturated offensive color, like so many of the Digital photographs on social media and in advertising. I want my color images (even though there are not many) to look real and to convey what I saw and felt when I created the image.
The C41 developing process has been as simple as I remembered. The most critical part so far has been temperature control, which my Jobo processor does for me. I have reduced development time slightly from the recomendation included with the chemistry. I think Ektar is a little too contrasty for what I want, so the reduced development should help that. Development times are fairly short, as I use 100 degrees F for my standard temperature. The big color negatives are really impressive on the light box.
The next step in the adventure is to sort out a project and move forward.

Windmill near Carpenter Wyoming. Kodak Master View Camera with 450 mm lens
Aligator in the Wood Pile

Albany County Wyoming

Kodak Master View Camera

240mm lens
Blair Wallace Road

West of Cheyenne Wyoming

Kodak Master View Camera

240mm lens
Small Aspen Grove

Vedauwoo Wyoming

Kodak Master View Camera

240mm lens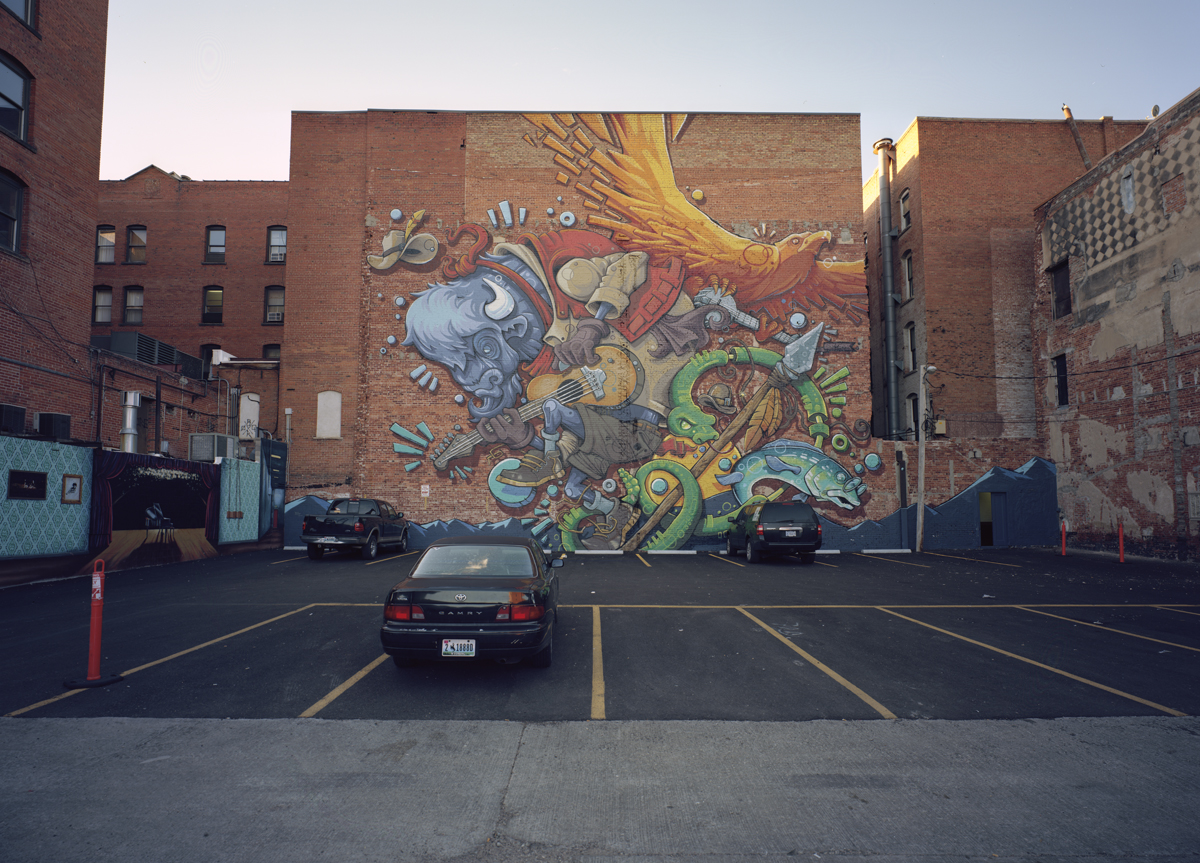 Downtown Mural
Cheyenne Wyoming
Kodak Master View Camera
121mm lens
Click here to return to the Galleries
Click Here to Return to the Home Page
Designed by: Craig Pindell